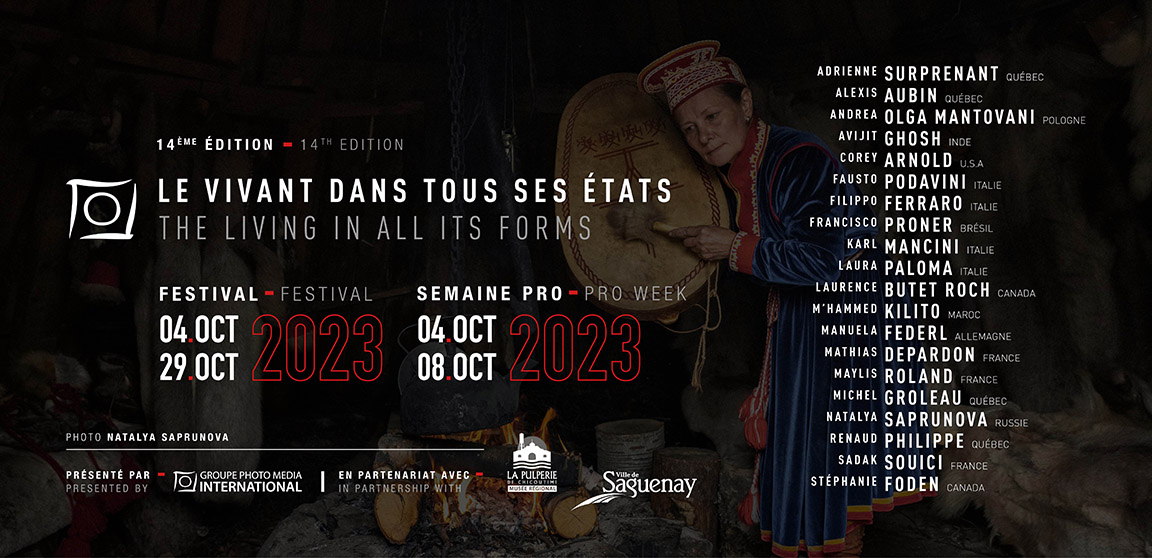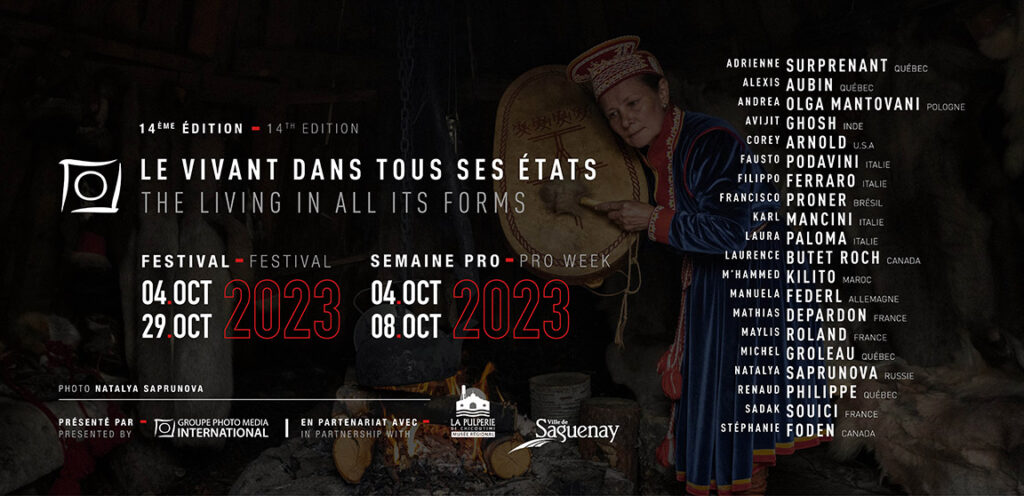 ---
Photographers from the four corners of the globe will converge on Saguenay this fall for
the 14th edition of the Zoom Photo Festival. Their unique and captivating documentary work will once again allow the public to discover exhibitions of international caliber.  
The organization has carefully selected the exhibitors who will be in the spotlight from October 4 to 29. The theme of this 2023 edition is The living in all its states. The photographs will highlight all-round changes, including those related to climate, biodiversity and human populations.
ADRIENNE SURPRENANT – QUEBEC
ALEXIS AUBIN – QUEBEC
ANDREA OLGA MANTOVANI – POLOGNA
AVIJIT GHOSH – INDIA
COREY ARNOLD – ÉTATS-UNIS
FAUSTO PODAVINI – ITALY
FILIPPO FERRARO – ITALY
FRANCISCO PRONER – BRAZIL
KARL MANCINI – ITALY
LAURA PALOMA – ITALY
LAURENCE BUTET ROCH – CANADA
M'HAMMED KILITO – MAROC
MANUELA FEDERL – ALLEMAGNE
MATHIAS DEPARDON – FRANCE
MAYLIS ROLAND – FRANCE
MICHEL GROLEAU – QUEBEC
NATALYA SAPRUNOVA – RUSSIE
RENAUD PHILIPPE – QUEBEC
SADAK SOUICI – FRANCE
STÉPHANIE FODEN – CANADA
A theme that affects the whole planet
It's commonplace to say that biodiversity is on the brink of the sixth extinction, that oceans,
forests and soils are under threat. Every day, the conditions of habitability are shrinking. The living world – including the mineral, plant, animal and human worlds – has reached a breaking point,
with domino consequences that could well spiral out of control..
We may have the power to destroy ecosystems and their living beings, but we depend on them to eat, heal, marvel and learn…
The living world in all its states, is about (re)discovering all its forms, its intrinsic values,
its torments and its beauties.
The living world in all its states means equitable cohabitation with other living things,
a transformation of modes of domination and exploitation.
The living world in all its states means complex exchanges between all living beings,
their environments and their communities. 
The living world in all its states is the human being confronted with current social, economic
and political issues, such as climate change, the migration of peoples and the relationship between indigenous peoples and Mother Earth.
Photography's contribution to this collective reflection on the living is undeniable.
We look forward to seeing you all in Saguenay for the 14th edition of the Zoom Photo Festival.
---