Nomads still roam the plains, valleys and mountains of Iran. Members of the Qashqai or Bakhtiari tribes move with the seasons, seeking green pastures and water for their herds of goats and sheep. French photographer Catalina Martin-Chico went to meet them last spring. She documented the lives of those still on the move and of those who've either been forced or decided to settle down.
Here, along with testimonials from Mohammed Hosseini, a Bakhtiari nomad, and a descendant of the Qashqai Khan, she speaks the many nuances of their existence.
The work is exhibited at Visa pour l'Image, in Perpignan, France, from August 27 to September 11.
Catalina Martin-Chico, photographer
"I don't really do news photography, but I'm interested in what makes History, including what is at risk of disappearing, like the nomads in Iran. They once played a very important role in the country. Less than a century ago, they represented nearly 50% of the Iranian population. They took part in drafting the 1906 constitution and defended the State's borders during the Second World War. Yet despite their former glory and power, they are now merely a million and a half while Iran has just over 77 million inhabitants.
I first went there in February to scout. So little has been published on them since the 70's, that I even wondered if they still existed. I spent ten days in Tehran, trying to figure out where I could meet them. Anthropologists, sociologists, and ethnologists showed me on a very detailed map, the places frequented by Qashqai or Bakhtiari, the two great nomadic tribes.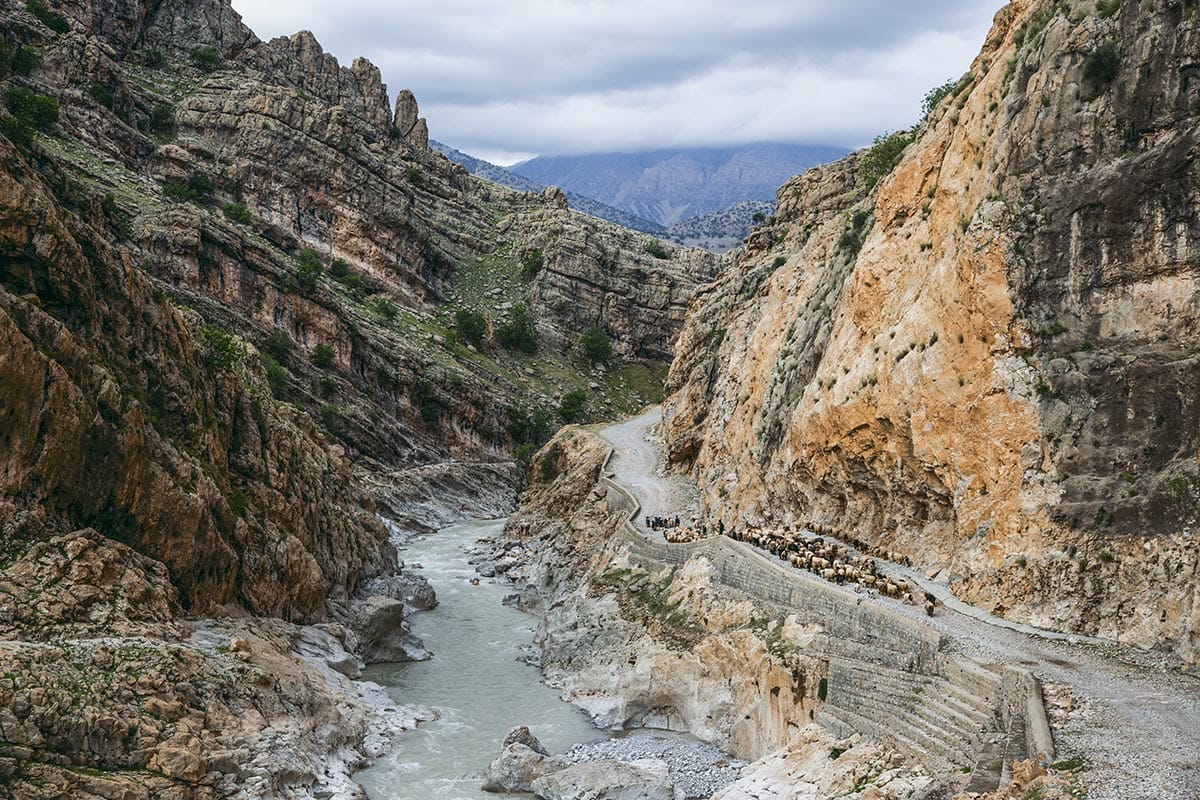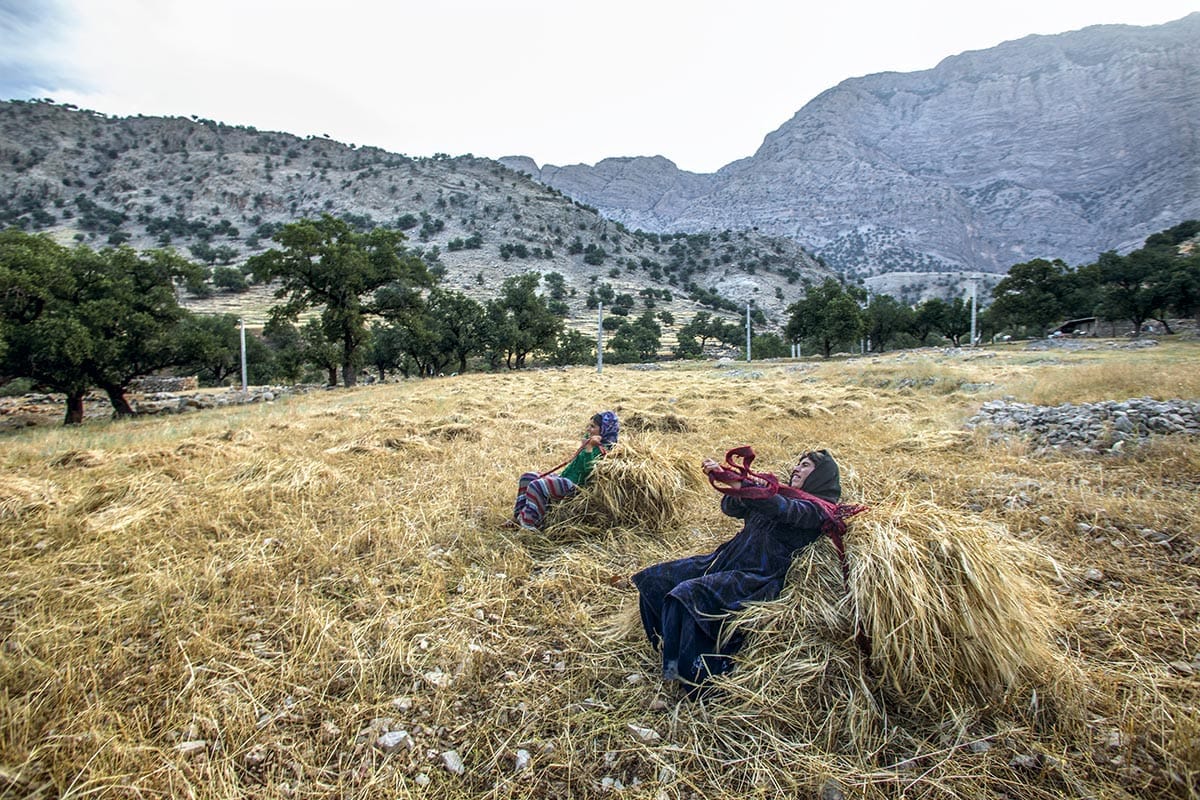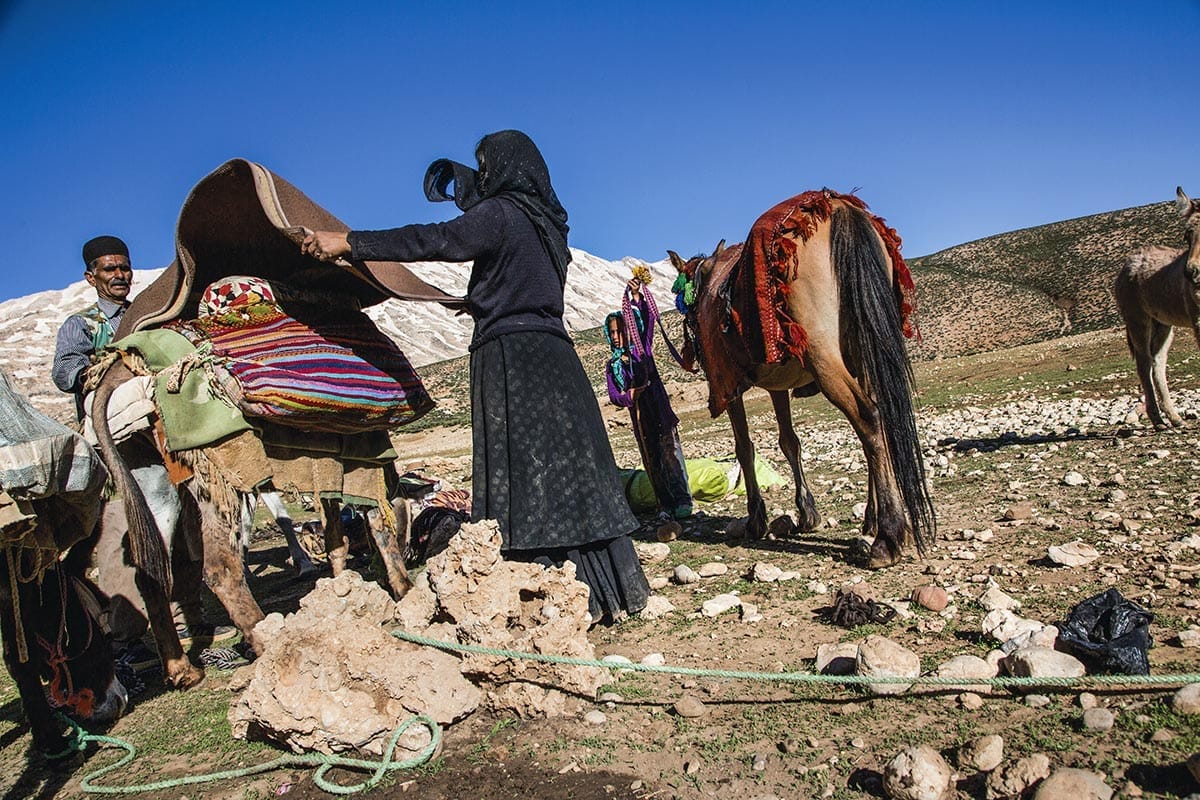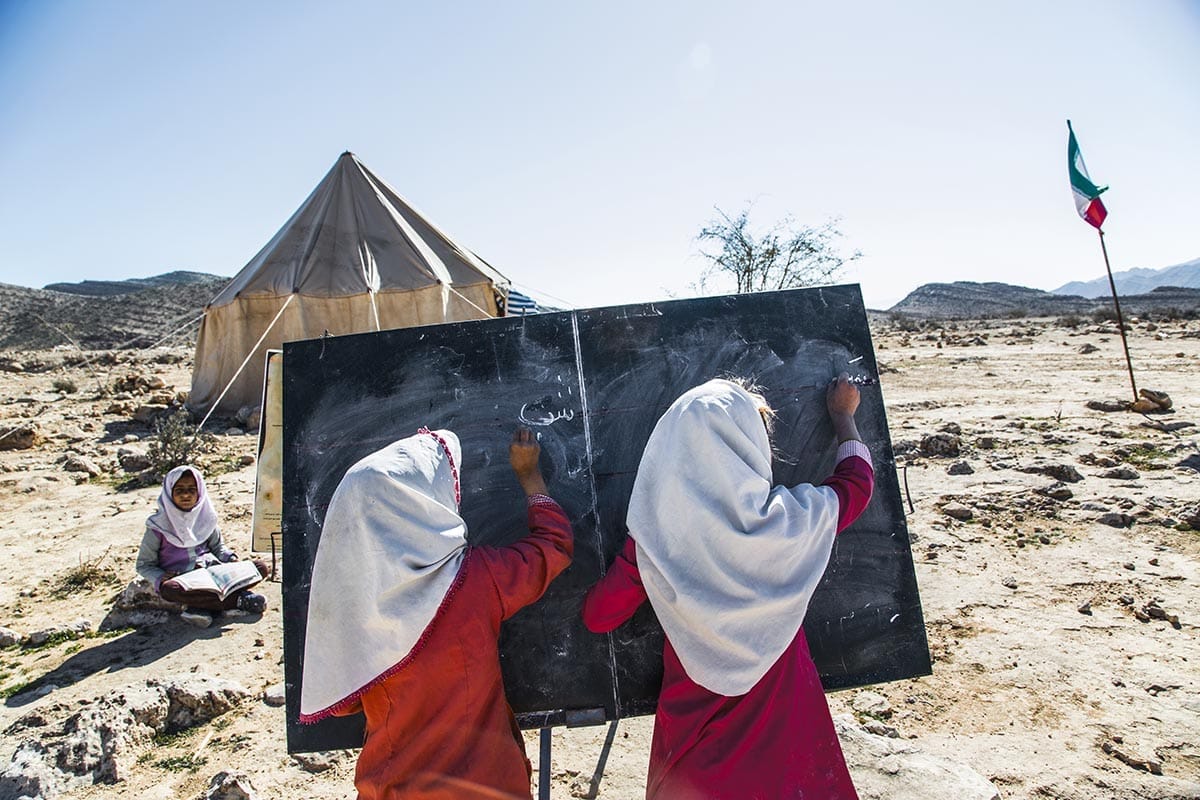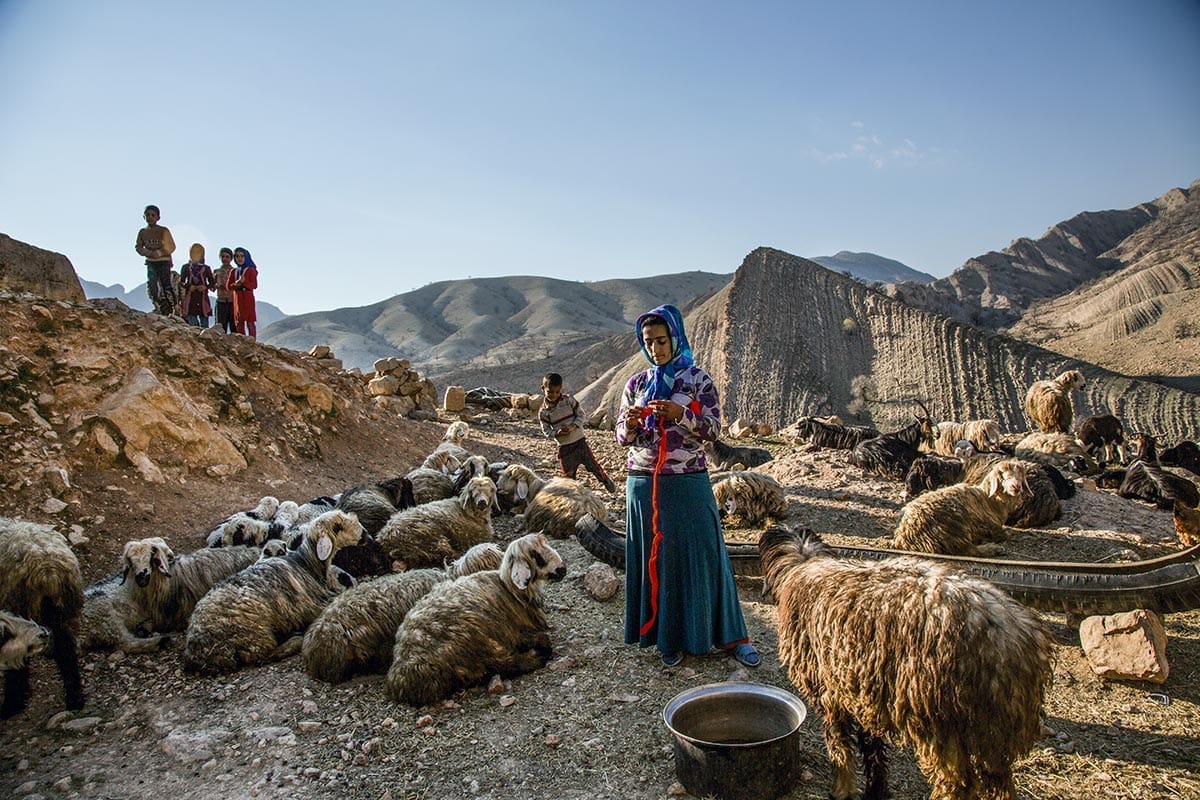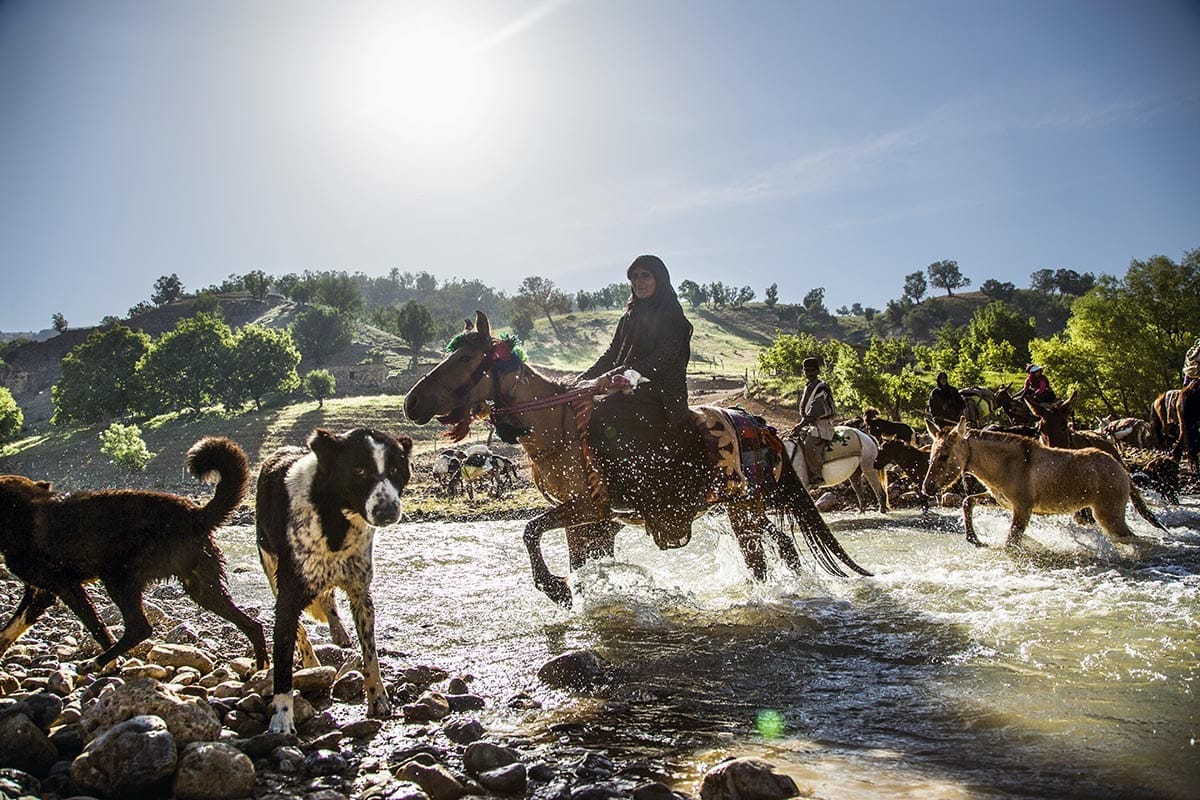 I went back in April to follow the nomads' migration and explore different facets of their story. Given that much of the information I had was dated, I was in for a surprise. I met people that were not as traditional as I expected. They have cellphones, move around using pick-ups rather than horses, no longer keep camels, etc. The government initially forced them to settle down; but now, it has more to do with modernization. For example, young people wishing to pursue their education beyond primary school must settle near a city. Few go back to the field afterwards. Climate change also has an impact. It's now more difficult to find water or green pastures.
When I approach a new topic, I try to do it without prejudices because everyone I meet has a different experience or opinion. It's hard to generalize. Some nomads suffer from the constant motion –and I hope that their wish to settle will materialize. Others are really proud of their way of life -so, in this case, I hope that they can continue to live according to their traditions. Amongst those who have settled down, some have a comfortable life, while others feel lost, torn between the two worlds, are unhappy and fall into a cycle of drugs and depression.
Since, this subject is full of nuances and complexities, I endeavored to make a tableau of what I saw, without drawing any conclusions or advocating for one outcome or the other."
Anonymous, descendant of the Qashqai Khan
"Originally from Central Asia, the Qashqai have been living in Iran for almost 1,000 years. It is a confederation of six tribes: Kashkouli, Farsimadan, Dareh Shouri, Amaleh and Boulouki Cheh, who spend the summer in the plains of the Zagros Mountains, near Isfahan. During wintertime, they lead their sheep and goats south of Shiraz, near the Persian Gulf.
Ruled by a Khan, the tribe did not hesitate to oppose the central government. In retaliation, the successive regimes implemented policies that gradually forced them to settle. They also imprisoned and executed some Khan and forced many families into exile, like mine. Today, there's only about fifty thousands Ghasghai still leading a pastoral life, trying to preserve ancient traditions"
Mohammed Hosseini, Bakhtiari nomad.
"Our migration is weather and pasture driven. For instance, during fall and winter, we move towards warmer regions such as Kohne Ab, Lali, and Khouzestan. We travel either by horse or by car. This year, my family had to use the latter to make it to Bazoft because some of the sheep were sick. In winter, we wake up around 7 o'clock, 6 in summer. After collecting wood for the fire and having breakfast, the men tend to the herd while women milk the sheep to make cheese. They also make lunch. The men come back around noon, eat and milk the sheep before going back to the pasture. They return in the evening, help the women with milking the sheep (again) and have dinner with the family. One person is responsible for watching the herd overnight to keep them safe from thieves. We make yogurt, curds and other dairy products with the collected milk Also, we use goat's hair to weave carpets, ropes, tents and Choogha, our traditional clothes.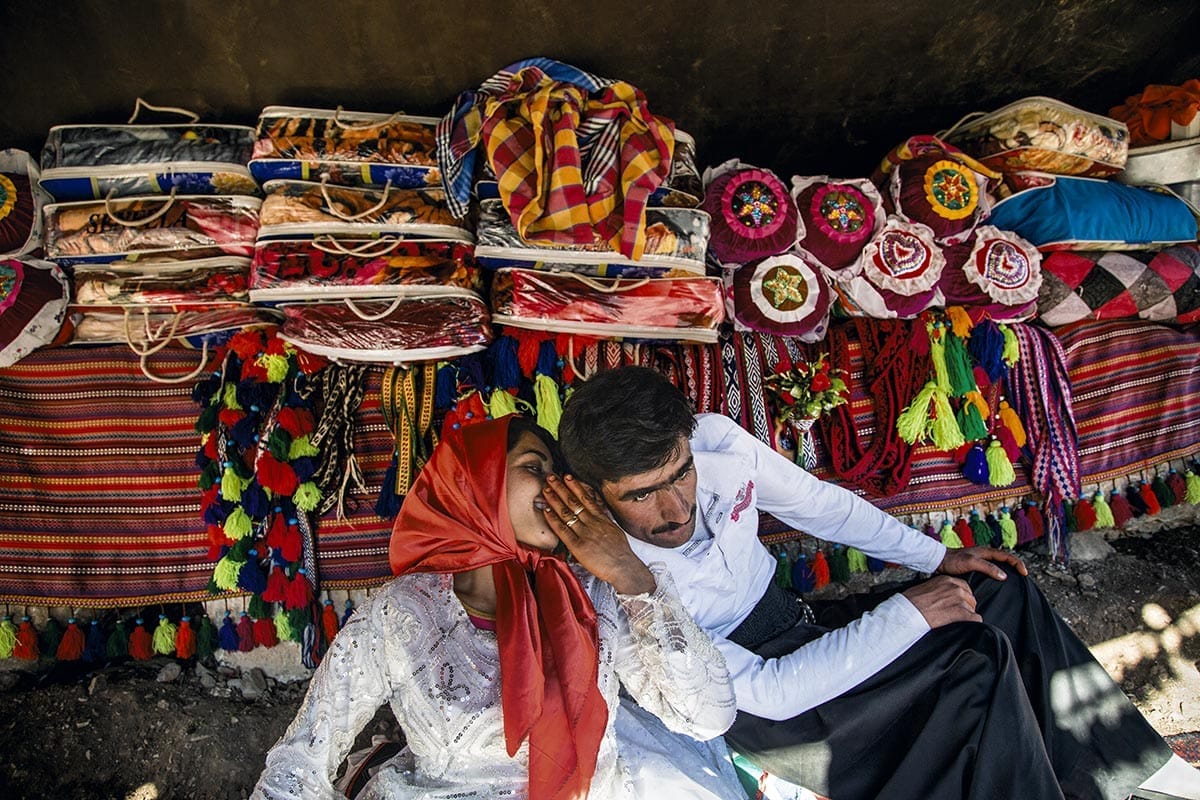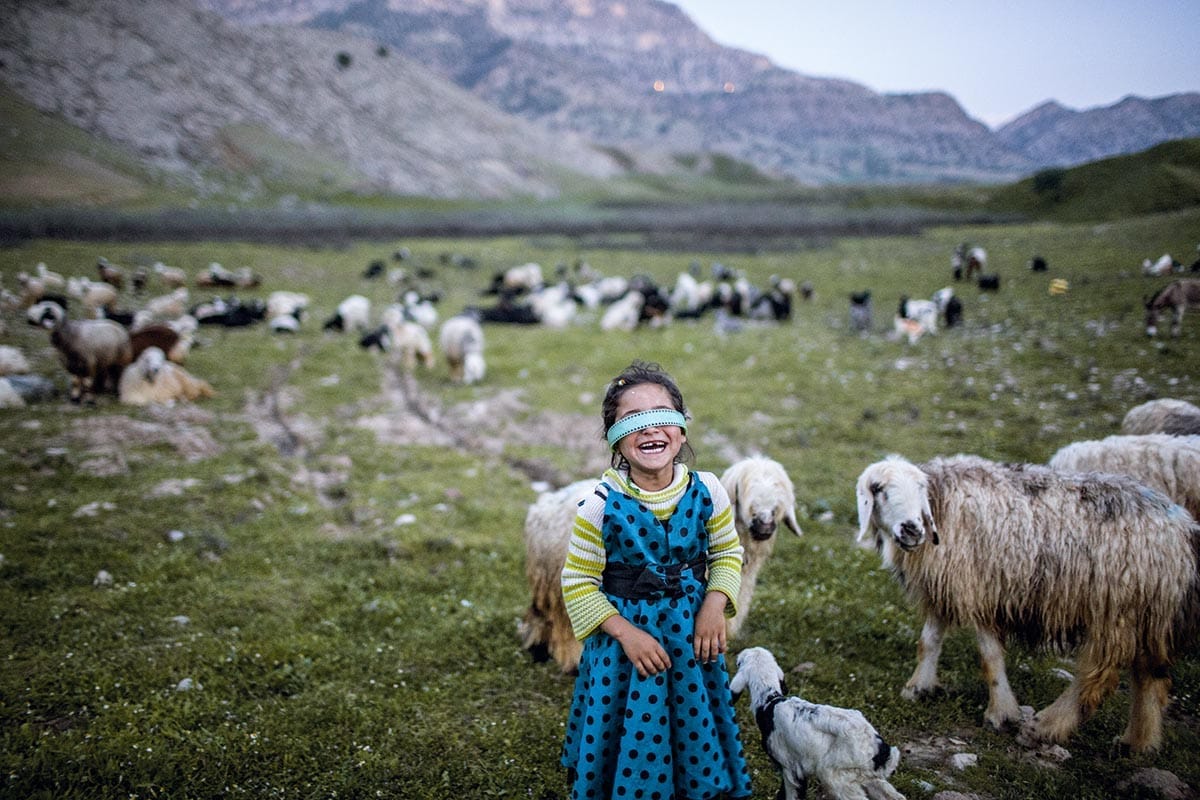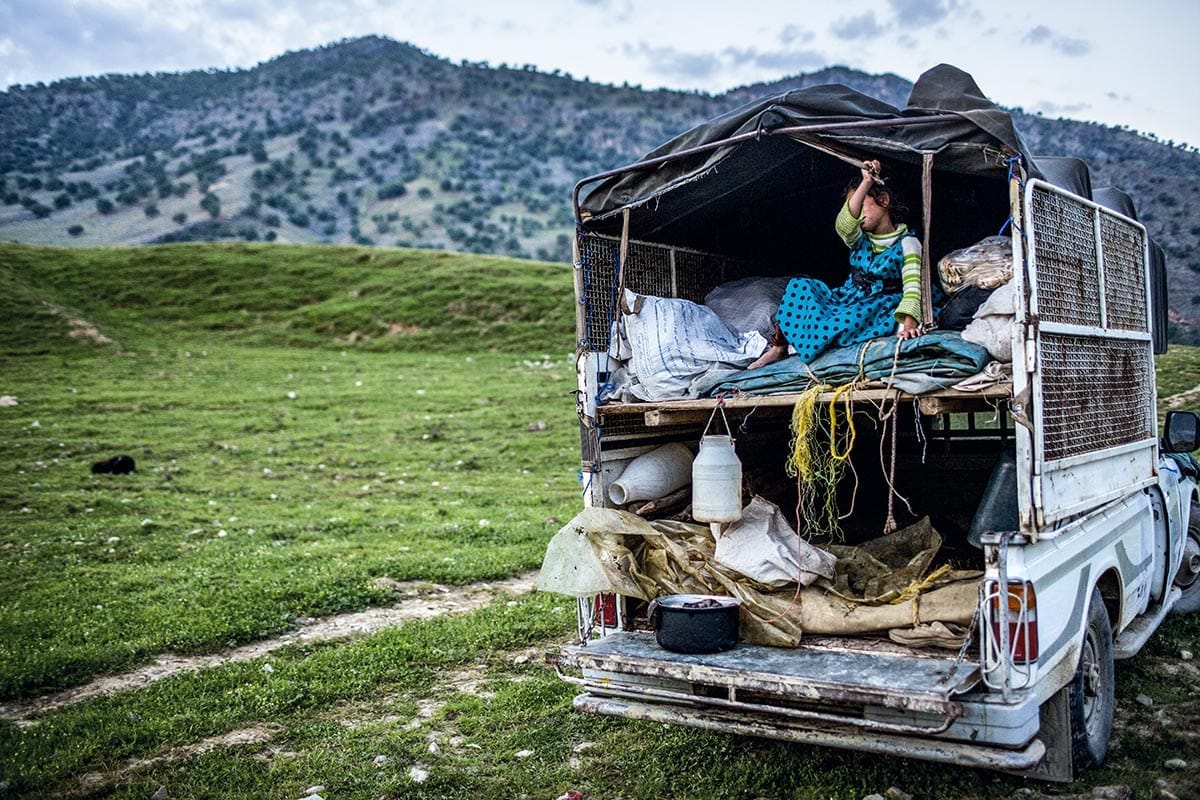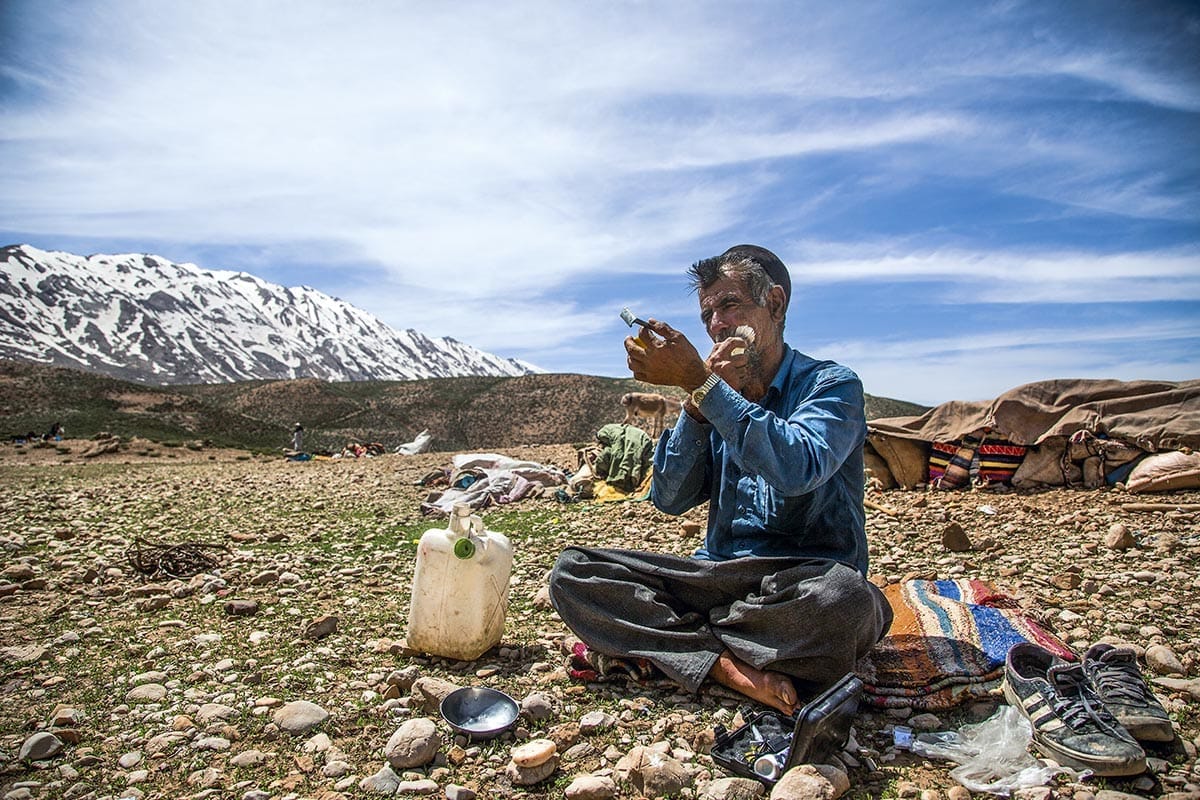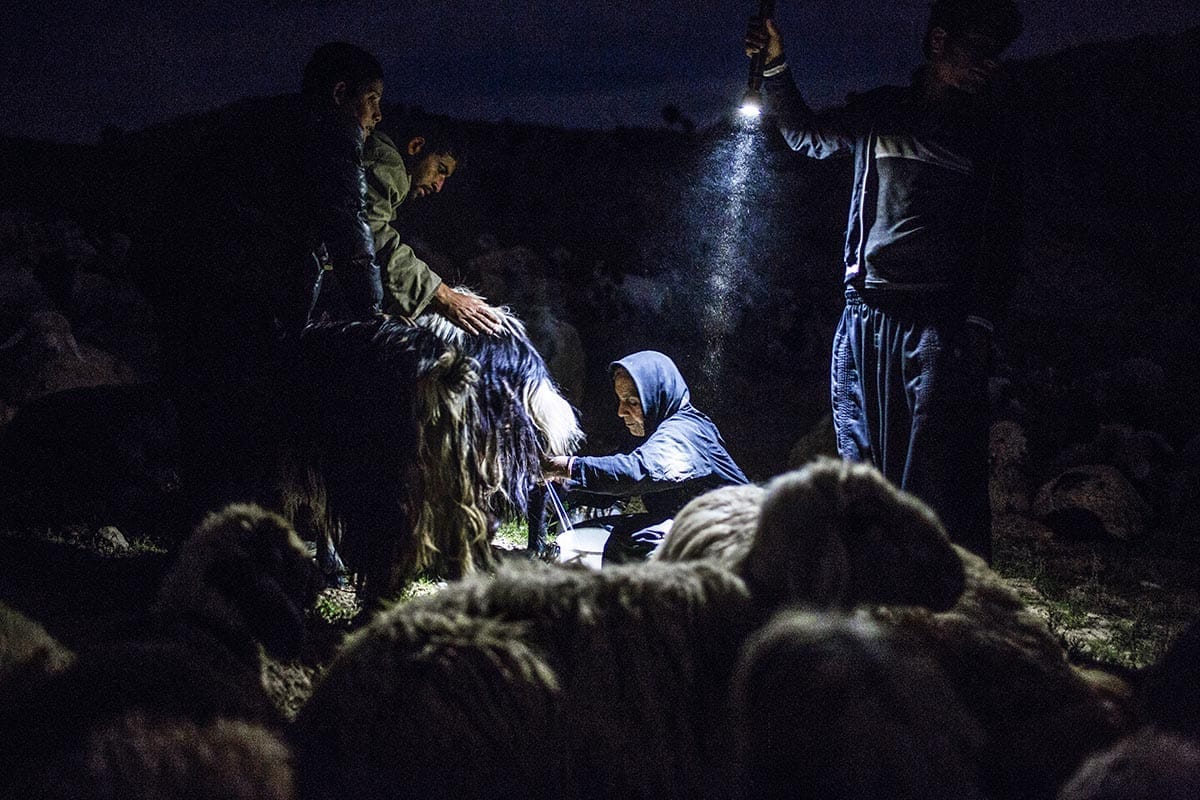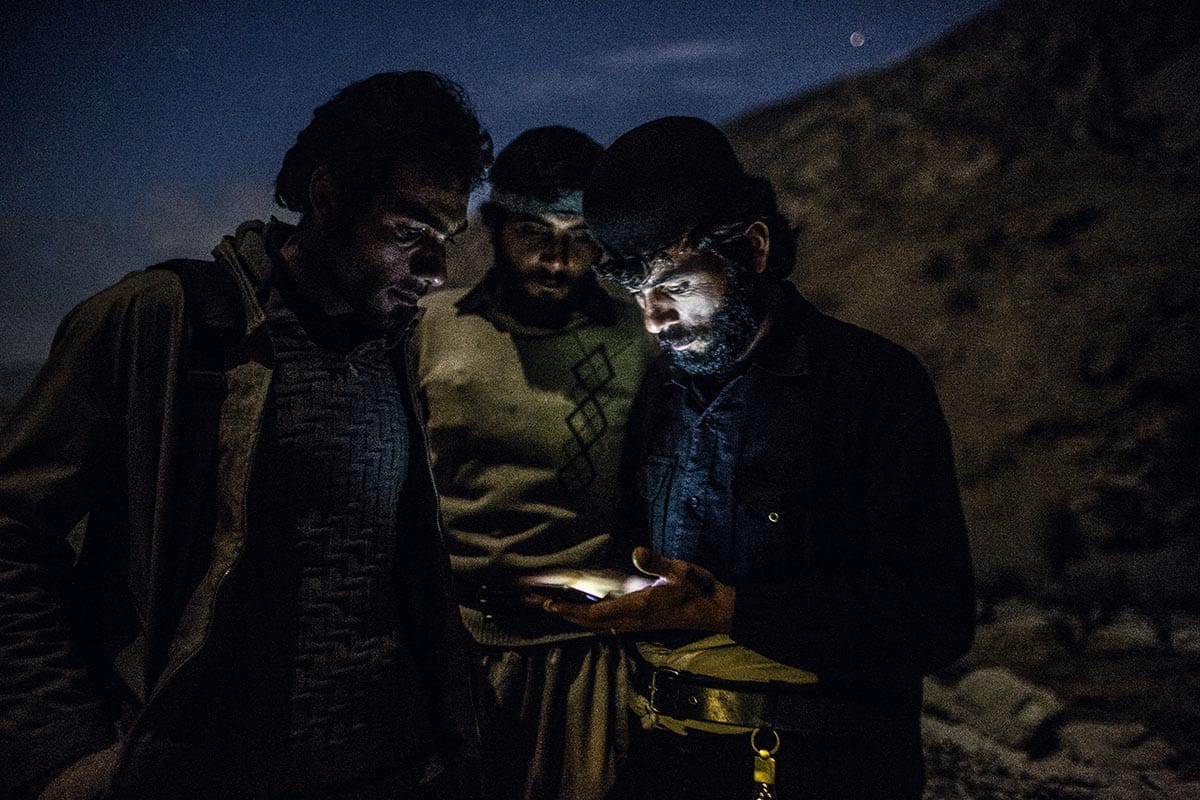 It's a great way of life, with clean air, a healthy lifestyle and peace of mind. We're self-sustaining, so politics and sanctions don't affect us. Still, access to medical services is an ongoing problem. If we get sick, we have to go very far to find a doctor. One of my friends had appendicitis and we couldn't get to the doctor on time. He died on the way. Thankfully, nowadays, having cars and mobile phones enable us to get help faster. We're also vulnerable to natural disasters like floods, earthquakes and landslides. Sometimes, you have to decide between your life and that of your herd.
Because this life can be difficult for some, they decide to settle down. It can happen when the head of the household either becomes too old or dies without having a son ready or willing to takeover; if someone in the family has health problems; or if it becomes too difficult to make a living from a small herd. There are less and less of us."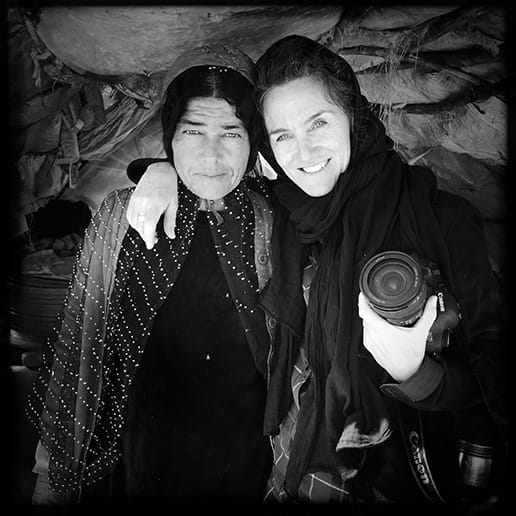 Catalina Martin-Chico
Catalina Martin-Chico is a Franco-Spanish photographer. She produced photo essays in Yemen for 8 years while also working on French social subjects and partly covering the Arab Spring. In 2011, she was awarded the Visa d'Or ICRC Humanitarian for her work on the Yemeni revolution and in 2013 she obtained a St-Brieuc grant to report on the paradoxes of the island of Saint Martin (exhibited at the 2014 Zoom Photo Festival). Catalina Martin-Chico is represented by the Cosmos Agency.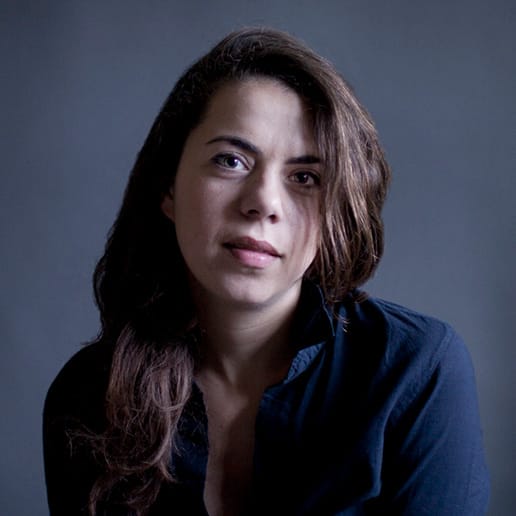 Laurence Butet-Roch
After falling in love with journalism through "Scoop", a Quebec sitcom set inside a newsroom, Laurence Butet-Roch studied international relations at the University of British Columbia and photography at the School of Photographic Arts: Ottawa that led her to become a photographer with the Boreal Collective, a photo editor and a writer. Mindful of the evolving media ecology, she is currently pursuing a Master of Digital Media at Ryerson University.